GABRIEL CHAILE

THE NEW MUSEUM TRIENNIAL 2021
Gabriel Chaile has been selected to participate in The New Museum Triennial, set for October 2021. Organized by New Museum curator Margot Norton and Institute of Contemporary Art Los Angeles senior curator Jamillah James, the exhibition will focus loosely on forms of perseverance and the ways that the past informs the present. James and Norton's triennial will be titled "Soft Water Hard Stone," in reference to a Brazilian proverb—"Água mole em pedra dura, tanto bate até que fura" ("Soft water on hard stone hits until it bores a hole")—about the value of resistance over time.

The New Museum Triennial opens October 2021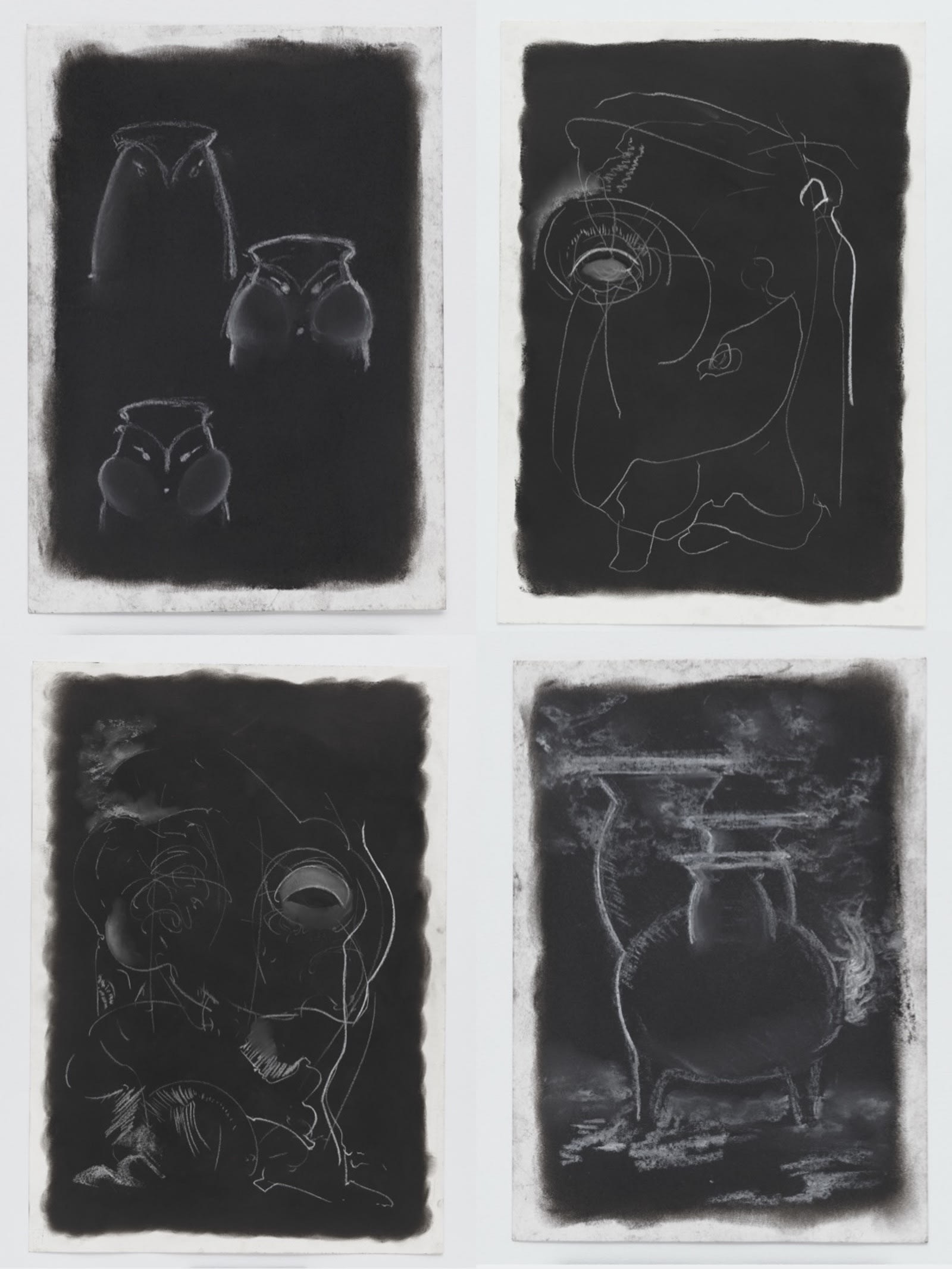 GABRIEL CHAILE ON LEVIATHAN
Gabriel Chaile has recently emerged as one of the most vital artists of his generation, developing a visual language equally rooted in ancient and modern forms, indigenous craft and social advocacy. For this new series of unique drawings, Chaile's process of working in white chalk over a charcoal ground allows him to pull mystical forms from the darkness. Drawing is essential to Chaile's artistic practice as a means to study ancient sculptural objects as part of his archaeological and anthropological research into South American indigenous cultures. While capturing the metamorphosis found in many pre-Columbian motifs, from figuration to abstraction, Chaile forms a new paradigm that melds history, our present and the future.

Gabriel Chaile, Me hablan de oscuridad pero yo estoy encandilado, on view at 6-10 Lexington Street until 21 May.
---
ALESSIO BOLZONI + CHRISTOPHER ORR AT HAA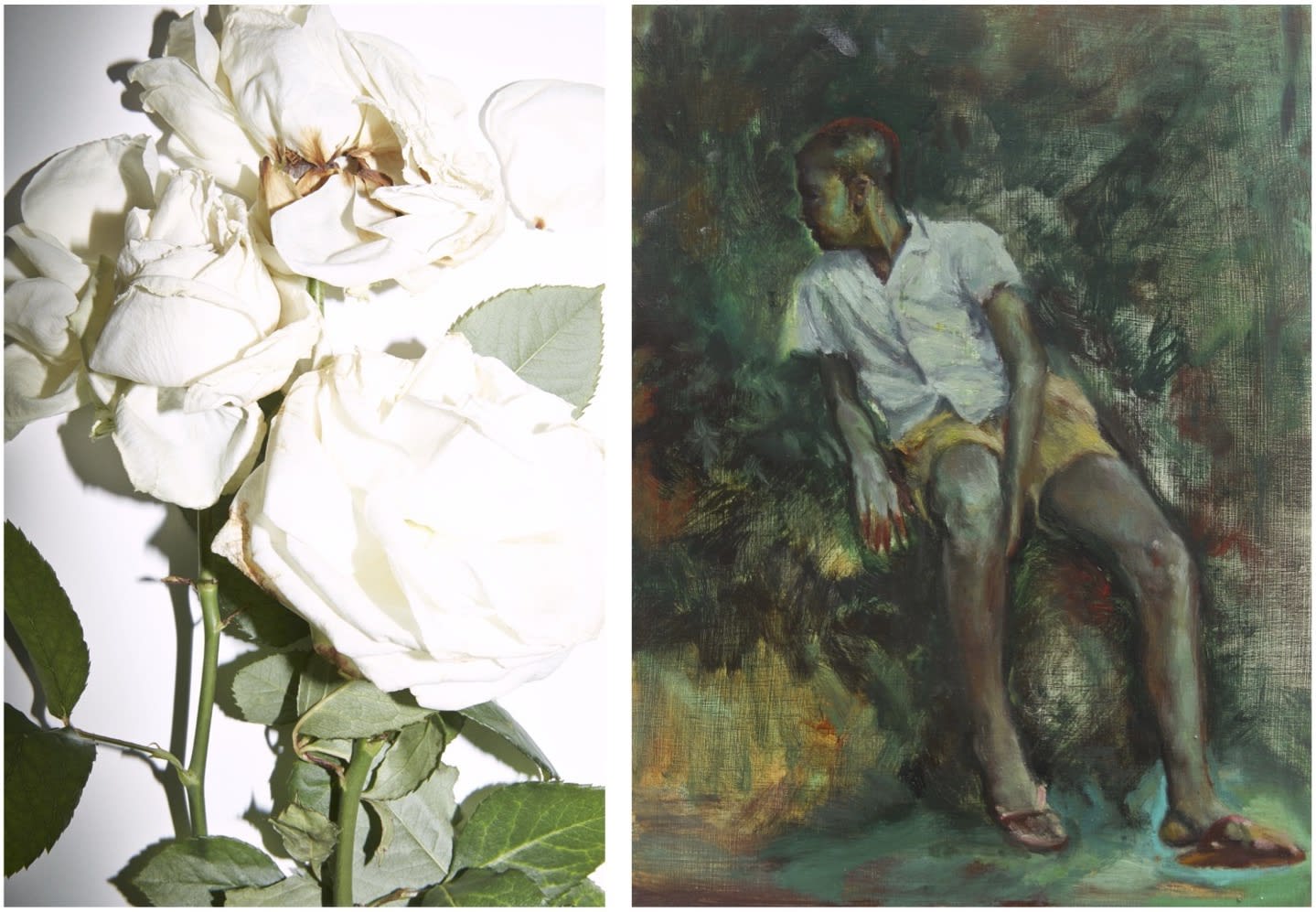 HAA – HENI Artists Agency is pleased to announce a two-artist exhibition with Alessio Bolzoni and Christopher Orr. The exhibition brings together Bolzoni's large-scale photographs and Orr's recent paintings, both of subjects suspended in time, history and their own other-worldly settings. Each artist places their subjects at the fading precipice of memory and the limits of perception, an in-between state that oscillates between abstraction and figuration, the real and the imagined, the material and the immaterial.

The exhibition is on view from 3 June - 2 July 2021 at 6-10 Lexington Street, 1st Floor, Monday through Friday, 11:00 – 6:00pm, and on Saturdays by appointment. Please visit heniartistsagency.com for further information or to arrange a visit.
---
THAMES + BRIAN CLARKE
THAMES has collaborated with Brian Clarke to produce a limited edition deck. The decks serve as two pentaptychs (counting both the undersides and the topsides separately) displaying two constellations of Brian's 'Night Orchid' paintings.

In me, Brian's art inspires optimism, above all else. His stained-glass windows that change constantly depending upon the natural light that passes through them… his drawings and paintings like those of the orchids, almost but not quite entirely enshrouded in black space, pregnant with the unknown… works like these, to me, affirm a very important message: that the circumstances under which we live are ever-changing i.e., that neither darkness nor light lasts forever, and that beauty is more than capable of flourishing, in one way or another, in both.
Blondey, 2021

The Brian Clarke multiplied by THAMES skateboard decks released today at Thames MMXX.
Limited edition of 500 decks (100 sets), each individually numbered.
---
ALEV EBÜZZIYA SIESBYE
STUDIO PLAYLIST
Alev Ebüzziya Siesbye is revered around the world for her minimalist stoneware vessels, hand coiled and glazed in a dazzling array of colours. Each unique sculpture appears to float, weightless, in a mastery of form and volume. The Turkish born Siesbye, who has lived in Paris since 1980, seductively describes the resonance that characterizes a successful work, so it is no wonder that she has clear taste in the music that plays while she is working. Siesbye shared some of her favourites with us from which we have complied a playlist in the link below.

Stay tuned for more details concerning our upcoming exhibition of Siesbye's work, her first solo show in the UK.

When I look at Alev's work, I am reminded of a passage from D. H. Lawrence in his book 'Etruscan Places', where he explores the evanescent quality of a nightingale's song. He compares the words of great religions with its song and concludes that the bird is the winner. It is neither preaching nor teaching nor commanding nor urging; it is just singing. And there are Alev Ebüzziya Siesbye's bowls. They are just singing.
William Hull, director emeritus of the Museum of Art at Pennsylvania State University, 2004

Click here for a Spotify playlist of music Alev Siesbye listens to.

---
ETTORE SPALLETTI
STUDIO ETTORE SPALLETTI INSTAGRAM
My works are not to be touched, they are protected by a layer of colored powder.
A presence without a smile, without tears, without a story, but above all, without provocation'
Published in in Ettore Spalletti. So white a day, Electa, Milan, 2014.

We are pleased to share Studio Ettore Spalletti's instagram account dedicated to the Artist and the studio's extensive archive. A new website studioettorespalletti.it is due to launch this summer.

Follow the studio @studioettorespalletti
---
RICHARD ESTES
ACTUALLY, ICONIC: RICHARD ESTES, FLOATING STONE
We highly recommend the new documentary "Actually Iconic: Richard Estes" produced by the award winning documentarian Olympia Stone (Floating Stone Productions), a rare glimpse into the life and art of Richard Estes, an iconic American painter who, at 88 years of age, is working at the height of his powers. For over fifty years Estes has been painting mesmerising pictures of contemporary life in New York City and around the world.

Keep in touch for news of an exciting new project with Richard Estes for later this year.
---
ROBERT STORR, WRITINGS ON ART, 1985 - 2005
HENI presents the first in a two-volume publication featuring the collected writings on art by Robert Storr, one of the world's leading art critics and curators.
Featuring the best of Storr's criticism, reviews, essays and other writings from the 1980s to the mid 2000s, the book includes his essays on artists such as Eva Hesse, Martin Puryear, Eric Fischl, Arshile Gorky, Ilya and Emilia Kabakov, Bruce Nauman and Adrian Piper. Written with his signature intellect and wit, his writings range from essays on gender in the work of Louise Bourgeois to reviews of Art Spiegelman's comic strip memoir Maus.
Expertly curated from his prolific output, and illustrated with 161 images to accompany the texts, Writings on Art is the definitive collection of Storr's multi-faceted writing – a must-read for curators and students, artists, exhibition-goers and all those interested in the art and culture of today.

Available at henipublishing.com